I stumbled across a great new blog that all you bloggers must check out ~
The Secret is in the Sauce
! (props to
Cheaper Than Therapy
, that's where I saw the button!)
Here's their
Secret:
The recipe for success is support. We are better together and by adopting the button below, you are pledging to support your fellow SITS bloggers. Monday thru Friday, come check out our featured blogger and leave her a comment. In fact, anytime you see this button, leave a comment. That's what SITS girls do.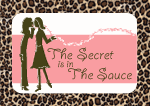 Everyday, I get addicted to a new blog check out the featured blogger, leave comments and "roll call" on the SITS blog. At the end of the week, they picked 2 "roll call" winners and I was one of them! I won a "Comment Junkie" t-shirt! Happy dance!!
A HUGE thank you to Heather and Tiffany for creating SITS - I love it!!

Thank you to all of those who stopped by to congratulate me!! I will be making my way to your blogs to show some SITS love!

Now, go, check out the post that started it all, Welcome to SITS, grab their button and become a part of an awesome blogging network!!